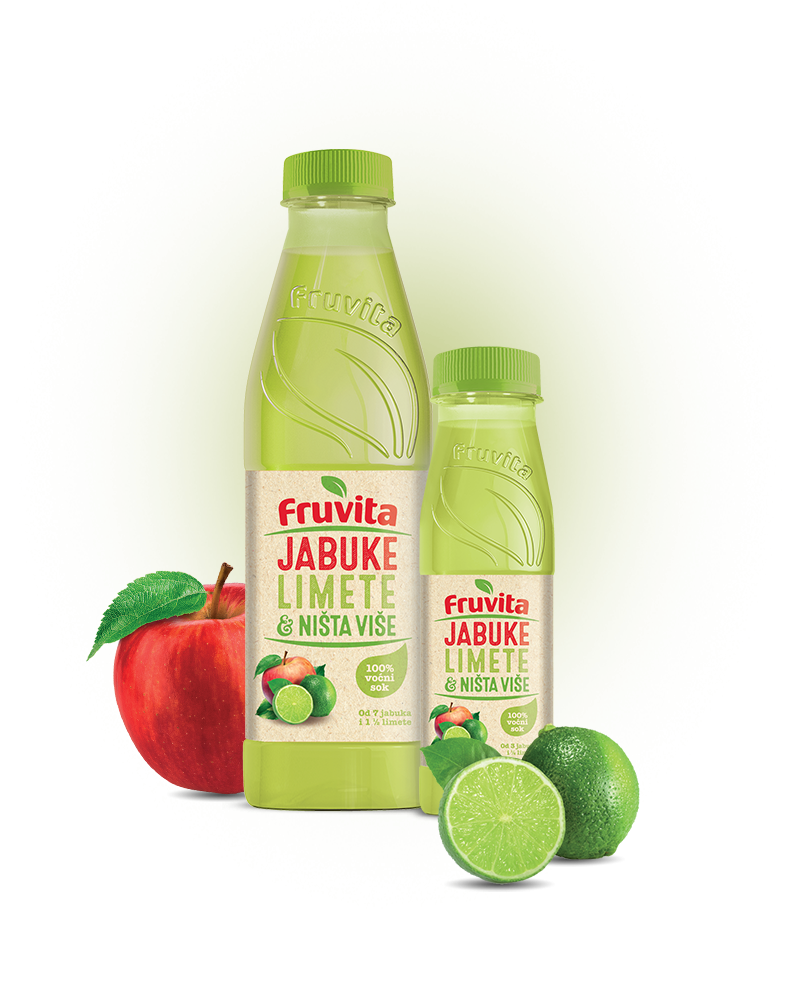 APPLES, LIMES & NOTHING ELSE
Šifra artikla:
jabuke_limete
This is our most refreshing directly pressed juice. It's freshness is the result of unique combination of 6 directly pressed local apples and 1 ½ directly pressed lime poured in each bottle. We do not add any water, sugar, preservatives or additives of any kind.

100% fruit content

No added sugar
No added water

No additives

No preservatives

Pressed fruit juice
Packages available:
0.33L
0.75L
Proveri dostupnost
Fruvita plant is in the centre of Smederevo and Grocka region, the most famed fruit growing region in our country. It is surrounded by immense orchards and vineyards from which, at the beginning of the season which starts already in May, just ripened fruits arrive at the plant and are processed while still fresh. Processing lasts until November when the queen of our juices – Fruvita fresh squeezed apple & nothing else closes the season. Apples are special because we get juice from them by directly pressing healthy fruits and such fresh squeezed juice is poured into Fruvita juice bottles without any further processing. Fresh squeezed apple juice at the same time is the base from which we make juices without adding any water to other cloudy flavors – peach, apricot, sour cherry and pear. Finally, Fruvita juices are manufactered in aseptic conditions which allow the fruit juice only to be shortly pasteurized and poured into final packaging with no preservatives added. That is why our Fruvita is ONLY FRUIT & NOTHING ELSE!